Thermoformed cellulosic pulp eco-products
Innofibre hosts the NSERC College Industrial Research Chair in Ecodesign for a Circular Economy of Thermoformed Cellulose Packaging Materials. Tarik Jabrane, a researcher at Innofibre, is the holder of this chair.
Raw materials development for thermoformed fiber packaging
Functional adjuvants development for thermoformed fiber packaging
Performance analysis of thermoformed fiber packaging
Thermoforming pilote trials of cellulosic fiber packaging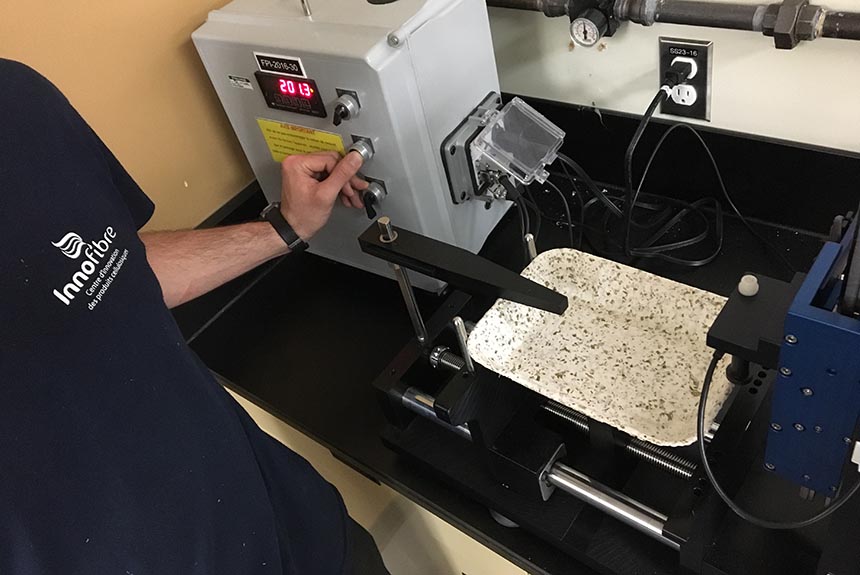 Development and prototyping of thermoformed pulp packaging
Technological development of the pulp thermoforming process
Demonstration of the use of lignocellulosic materials such as annual plants and mechanical pulp
Our equipments
Thermoforming pilot system for cellulosic pulps
High performance 3D printer for additive manufacturing of prototyping molds up to 16 x 14 x 16 in
FLIR T1030sc high performance infrare thermography camera for R&D applications
Dedicated system for the surface treatment of thermoformed cellulosic packaging with a variable speed conveyor
300 L wet chamber for accelerated aging of thermoformed pulps according to ASTM D2247 and ASTM D1735
Compostability analysis chamber for thermoformed cellulosic pulp packaging according to ASTM D6868
Cellulosic pulp preparation equipment : Tornado 24 po variable speed pulper for long fibers (hemp, flax, etc.), 20 L digester, 1 kg Valley refiner, PFI refiner
Thermoformed cellulosic pulp packaging analysis equipment : FPI (Food Packaging Institute) stiffness, OTR oxygen transmission rate and water vapor transmission rate, KIT test, COBB test, FTIR, TGA, thermoscellability, etc.